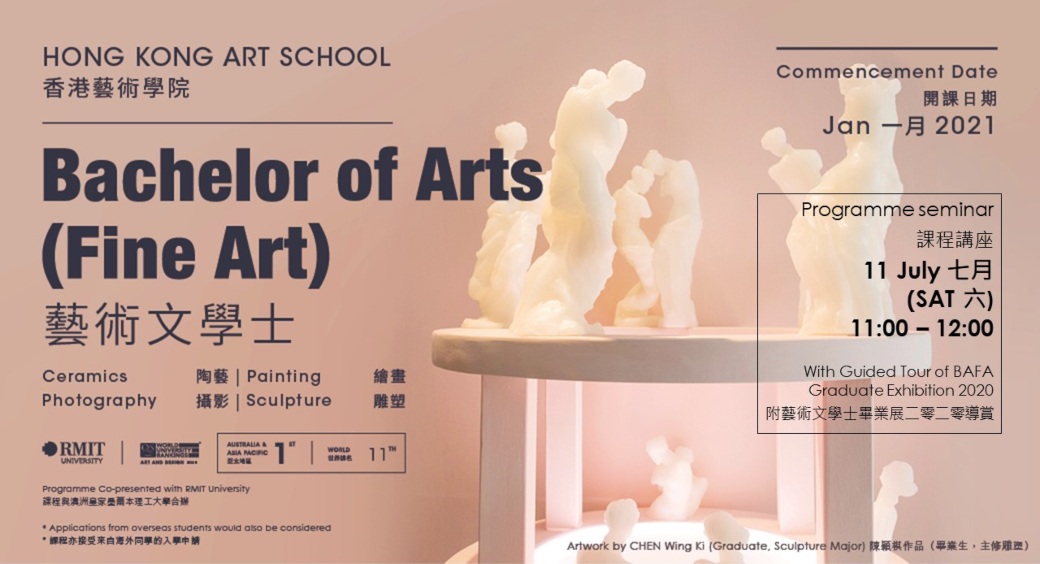 Bachelor of Arts (Fine Art) Programme Seminar (with Guided Tour of BAFA Graduate Exhibition 2020 )
Date:       11 July 2020 (Sat)
Time:       11:00am – 12:00nn
Venue:     Pao Galleries (5/F, Hong Kong Arts Centre, 2 Harbour Road, Wan Chai, HK)
Webinar Option: The seminar is also available online if you cannot join us in person, however, guided tour at the Galleries will only be available for participants who join us on the site.
Free Admission
Conducted in English
The programme seminar is open to all who hope to further develop your art learning with an in-depth focus on major studio practice (Ceramics / Painting / Photography / Sculpture). It will cover the programme structure, features, admission requirements and progression pathways. Participants can have face-to-face conversation with our staff and lecturer in order to know more about the programme.
HKDSE Candidates who would like to plan their future paths in Fine Art and working adults who would like to explore Fine Art Studies are welcome.
There will also be a guided tour of Bachelor of Arts (Fine Art) Graduate Exhibition 2020 from 12:00nn – 12:30pm hosted by the graduates @ Pao Galleries.
Please visit here for more details of BAFA programme.