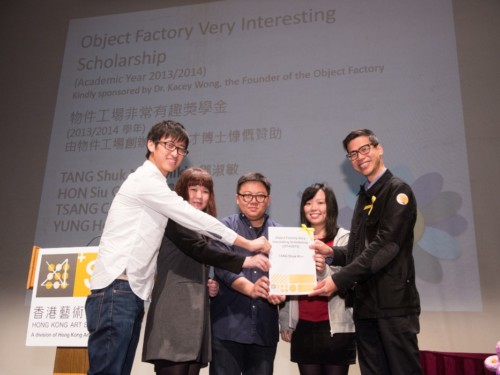 OBJECT FACTORY VERY INTERESTING SCHOLARSHIP
The scholarship, established with the generous support of Object Factory, which is founded by Dr. Kacey Wong, is to award one student of the Hong Kong Art School each year who is able to come up with THE VERY INTERESTEING IDEA / PROJECT.
NO. OF AWARDS
1 per year
ELIGIBILITY
Students of Bachelor of Arts (Fine Art) and Higher Diploma in Fine Art programmes
SELECTION CRITERIA
* Conceptual Creativity & Ingenuity
* Self & Critical Reflection
* Social Meaning & Impact
* Cultural Essence & Identity
* Materials & Craftsmanship, Artistic Quality
SCHOLARSHIP AMOUNT
Approximately HK$10,000.