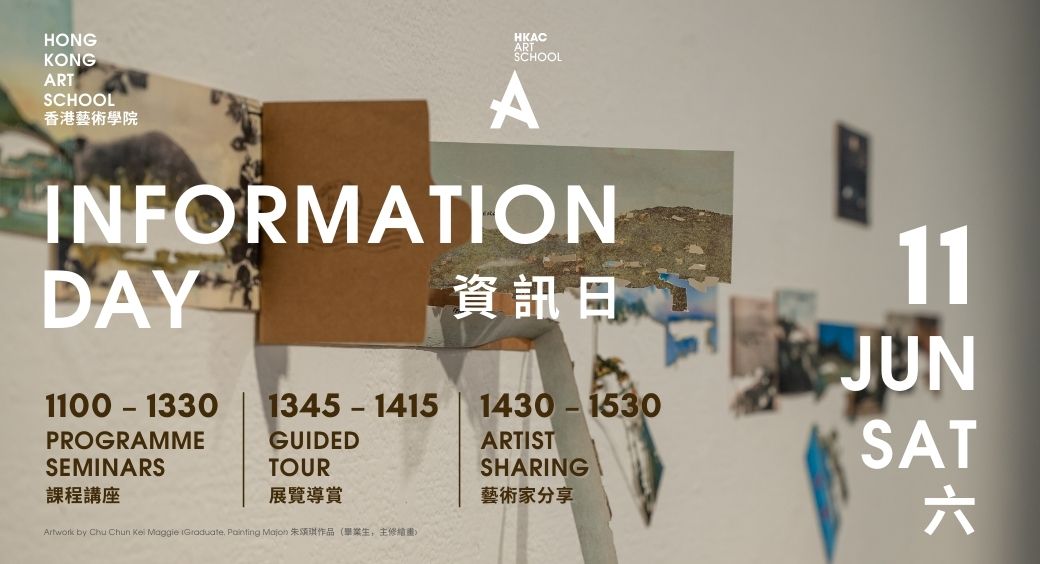 At our Information Day, you would learn more about our Fine Art programmes and admissions updates through our programme seminars, chat with our lecturers, programme administrative staff and alumni to gain useful tips on your art study plan. You could also get a taste of art through artist sharing session and exhibition guided tour.  Don't miss the chance to learn more about us and our programmes, enjoy the day with us!
Hong Kong Art School Information Day (11 June, 2022) @ Hong Kong Art School Main Campus (10/F, Hong Kong Arts Centre)
Programme Seminars (conducted Onsite & Online)
Higher Diploma in Fine Art  | 11am –12nn | in Cantonese 
Bachelor of Arts (Fine Art) | 12:30pm – 1:30pm | in English 
The two programme seminars were open to all who hope to begin fine art study journey with major studio practice or further develop their art learning with an in-depth focus on major studio practice. They covered the programme structure, features, admission requirements and progression pathways.
DSE candidates and mature-aged applicants were all welcome.
Please click here for HDFA programme details.
Please click here for BAFA programme details.
Guided Tour & Artist Sharing (conducted Onsite)
Guided Tour of Every Day – School Gallery Exhibition  | 1:45pm –2:15pm | in Cantonese 
Artist Sharing of Poetic Estrangement – Jockey Club Atrium Exhibition | 2:30pm – 3:30pm | in Cantonese 
Please click here for more details of Every Day – Exhibition @ School Gallery.
Please click here for more details of Poetic Estrangement – Showcase @ Jockey Club Atrium