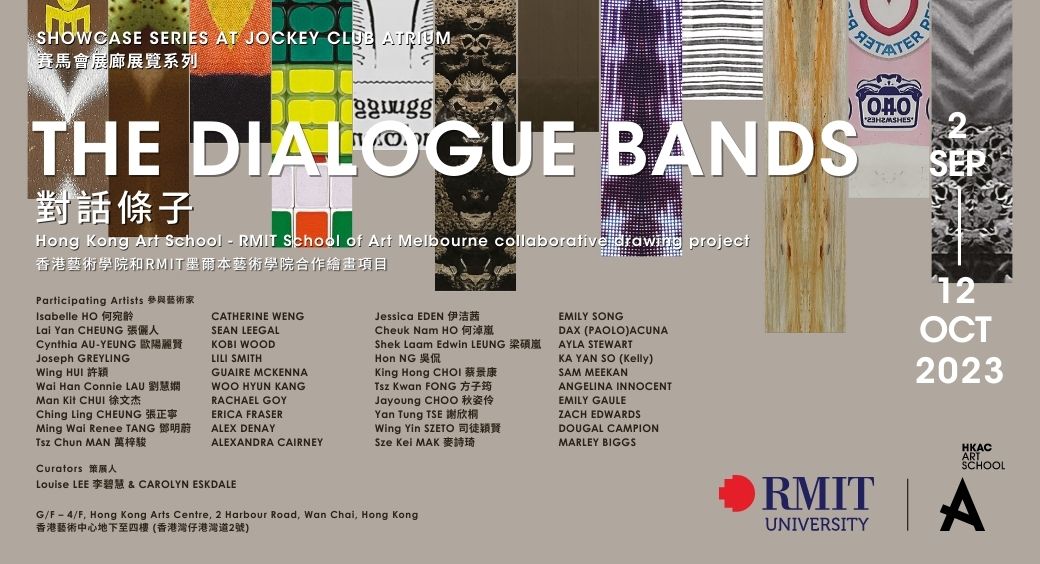 Exhibition Statement
The Dialogue Bands is a collaborative drawing project between Hong Kong Art School and RMIT School of Art Melbourne students and lecturers. It aims to synthesize a connection around approaches to thinking through making, exploring ideas, and investigating cultural themes.
Twenty students from Hong Kong paired with 20 students from Melbourne have contributed a part each to a composite drawing based upon a shared image prompt. The drawing halves are brought together in correspondence to produce single works shown in this exhibition and at RMIT University, School of Art, Melbourne from March 2024.
Individually students have responded in various 2D media to photographic image strips (42 cm tall and a few centimetres wide) that have been sampled from the cultural environments of Melbourne and Hong Kong.
Students from Melbourne worked from the right edge of the common strip to complete their A3 work on paper whilst students from Hong Kong worked from the left edge to complete theirs. In the process, they negotiated with their collaborating partner to exchange their ideas and interpretations, approaches, mediums, and possibilities. Discussions took place via emails, files, or online shared folders. Some works are seamless and harmonized, while others are contrasting and collagic. All are fascinating and contribute to building a 'picture' of the community of students in the BP201 program in Hong Kong and Melbourne.
Painting Showcase @ Jockey Club Atrium — The Dialogue Bands
Exhibition Period: 2 Sep – 12 Oct 2023
Time: 8am – 11pm
Venue: Jockey Club Atrium, G/F – 4/F, Hong Kong Arts Centre (2 Harbour Road, Wanchai, Hong Kong)
Curators: LOUISE LEE | CAROLYN ESKDALE
Artists:
| | |
| --- | --- |
| ISABELLE HO | CATHERINE WENG |
| LAI YAN CHEUNG | SEAN LEEGAL |
| CYNTHIA AU-YEUNG | KOBI WOOD |
| JOSEPH GREYLING | LILI SMITH |
| WING HUI | GUAIRE MCKENNA |
| WAI HAN CONNIE LAU | WOO HYUN KANG |
| MAN KIT CHUI | RACHAEL GOY |
| CHING LING CHEUNG | ERICA FRASER |
| MING WAI RENEE TANG | ALEX DENAY |
| TSZ CHUN MAN | ALEXANDRA CAIRNEY |
| JESSICA EDEN | EMILY SONG |
| CHEUK NAM HO | DAX (PAOLO) ACUNA |
| SHEK LAAM EDWIN LEUNG | AYLA STEWART |
| HON NG | KA YAN SO (KELLY) |
| KING HONG CHOI | SAM MEEKAN |
| TSZ KWAN FONG | ANGELINA INNOCENT |
| JAYOUNG CHOO | EMILY GAULE |
| YAN TUNG TSE | ZACH EDWARDS |
| WING YIN SZETO | DOUGAL CAMPION |
| SZE KEI MAK | MARLEY BIGGS |