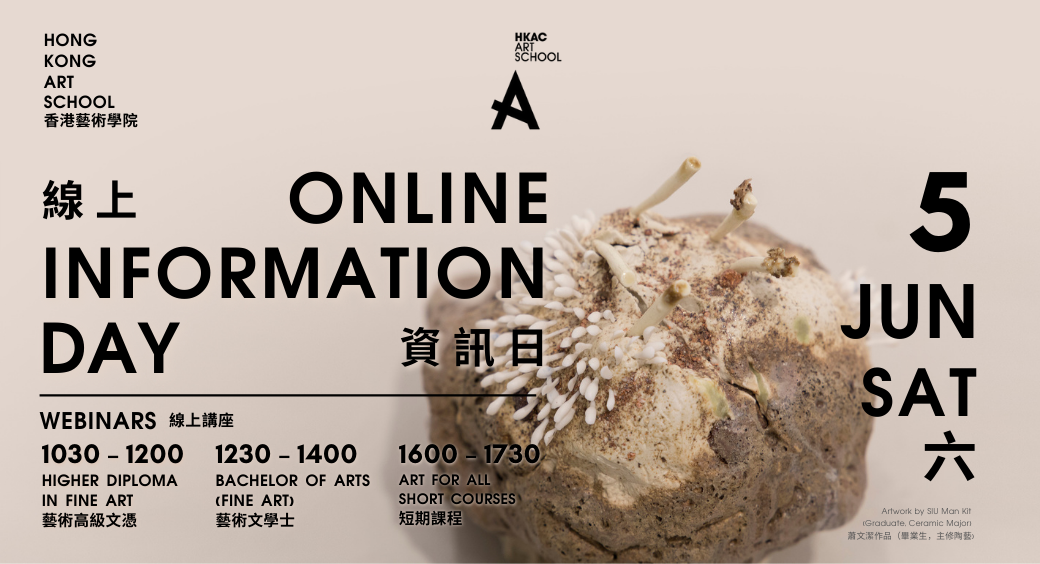 Hong Kong Art School Online Information Day
5 June 2021 (Sat) | 10:30am – 5:30pm
Whether you are HKDSE graduates who wish to further study in Fine Art, working adults who wish to make a career change in the art scene, or art amateurs who hope to make your first step in art making, we at Hong Kong Art School are here to help! Join our Fine Art Programmes / Art for All Short Courses webinars on our Online Information Day on 5 June 2021 (SAT) and be inspired by our alumni's sharing and art-demo, it's never too late for you to map out your Fine Art study plan in this summer!
Fine Art Programme Webinars (With Alumni Sharings)
Our Fine Art programmes, namely the Higher Diploma in Fine Art and Bachelor of Arts (Fine Art) are open to all who hope to begin fine art study journey with major studio practice or further develop their art learning with an in-depth focus on major studio practice. These webinars will cover the programmes' structure, features, admission requirements and progression pathways. Besides, our alumni from the two programmes will share their art learning experience, with tips on how to make the most out of the programmes.

Higher Diploma in Fine Art Programme Webinar (via Zoom)
5 June 2021 (Sat) | 10:30am –12:00pm | in Cantonese
Hosted by AU Hoi Lam (Programme Coordinator)
Alumni Sharing by MAN Mei To (https://www.manmeito.com/)
MAN Mei To will share with you her art study journey from Higher Diploma to Bachelor, her art creations, as well as her recent participation in the Tai Kwun Contemporary Artists' Studio Programme.
Bachelor of Arts (Fine Art) Programme Webinar (via Zoom)
5 June 2021 (Sat) | 12:30pm – 2:00pm | in English
Hosted by CHEUNG Wai Sze Rachel (Programme Coordinator)
Alumni Sharing by Benjamin HAO (https://benjaminhao.net/)
Benjamin HAO will share with you his fruitful and meaningful art journey, experiences of studying abroad and participating in Artist-in-Residence scheme. He will also share the tips to embrace job opportunities related to art, and also the gains from art creation to the participation in community art projects.
Art for All Short Courses Webinar (With Ceramics Demonstration)
A new round of Art for All Short Courses will be commencing from July, this webinar will introduce the structure and features of this short course series. This short course series is open to all who love art, especially those who hope to gain hands-on studio practicing experience and get an initial taste of different art mediums or topics.
Ceramics creations can be diversified! Other than just applying pinching or throwing techniques, you can create unique ceramic works by mixing several techniques in a creative way! Our alumnus, also the tutor of our ceramics short courses, YIU Chun Wa, will share with us the steps of mixing different pottery making techniques, which apply the simple and interesting molding techniques onto the thrown pottery wares to create clay works with unique characteristics, through an online art-demo session.
Art for All Short Courses Webinar (via Zoom)
5 June 2021 (Sat) | 4:00pm – 5:30pm | in Cantonese
Hosted by CHEUNG Wai Sze Rachel (Programme Coordinator)
Ceramics Demonstration by YIU Chun Wa (https://www.hkasalumniarchive.com/artistsdatabase/-yiu-chun-wa)