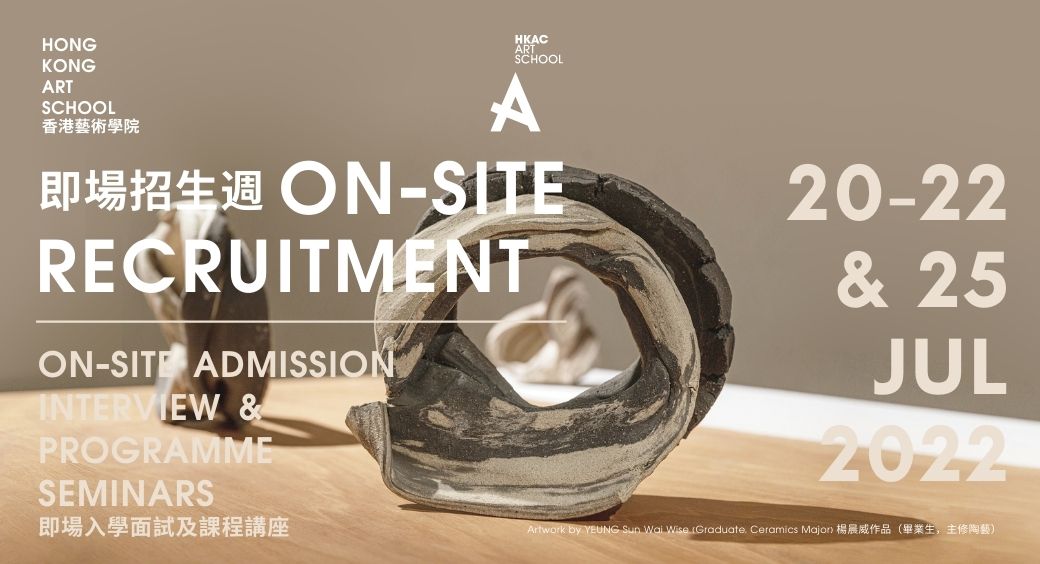 Hong Kong Art School On-site Programme Recruitment will be held during the DSE Results Release period (20 – 22/7 and 25/7). HKDSE graduates who are interested in enrolling into our Fine Art programmes, namely the Higher Diploma in Fine Art and Bachelor of Arts (Fine Art), can join our on-site admission interview at our Chai Wan Campus.
On-site Admission Interview
Date: 20 – 22 and 25 July 2022 (Wed to Fri & Mon)
Time: 20 July 2022 (Wed) 9:00am – 6:00pm | 21 – 22 & 25 July 2022 (Thu to Fri & Mon) 10:00am – 6:00pm
Venue: Hong Kong Art School Chai Wan Campus (Room 819, 8/F, Youth Square, 238 Chai Wan Road, Chai Wan, Hong Kong)
The School will also hold the Fine Art programme seminars in the afternoon of 21 July (Thu). The two programme seminars are open to all who hope to begin fine art study journey with major studio practice or further develop their art learning with an in-depth focus on major studio practice. They will cover the programme structure, features, admission requirements and progression pathways.
The seminars will also be conducted online through Zoom.
DSE candidates and mature-aged applicants are all welcome.
Bachelor of Arts (Fine Art) Programme Seminar (Onsite & Online through Zoom)
Date: 21 July 2022 (Thu)
Time: 2:30pm – 3:30pm
Venue: Hong Kong Art School Chai Wan Campus (Room 819, 8/F, Youth Square, 238 Chai Wan Road, Chai Wan, Hong Kong)
Language: English
Higher Diploma in Fine Art Programme Seminar (Onsite & Online through Zoom)
Date: 21 July 2022 (Thu)
Time: 3:45pm – 5:15pm
Venue: Hong Kong Art School Chai Wan Campus (Room 819, 8/F, Youth Square, 238 Chai Wan Road, Chai Wan, Hong Kong)
Language: Cantonese
Higher Diploma in Fine Art Graduate Showcase 2022 Guided Tour (Onsite)
Date: 21 July 2022 (Thu)
Time:
Venue: Hong Kong Art School Chai Wan Campus (Room 819, 8/F, Youth Square, 238 Chai Wan Road, Chai Wan, Hong Kong)
Language: Cantonese

Please visit here for more details of BAFA programme.
Please visit here for more details of HDFA programme.
Please visit here for more details of HDFA Graduate Showcase 2022