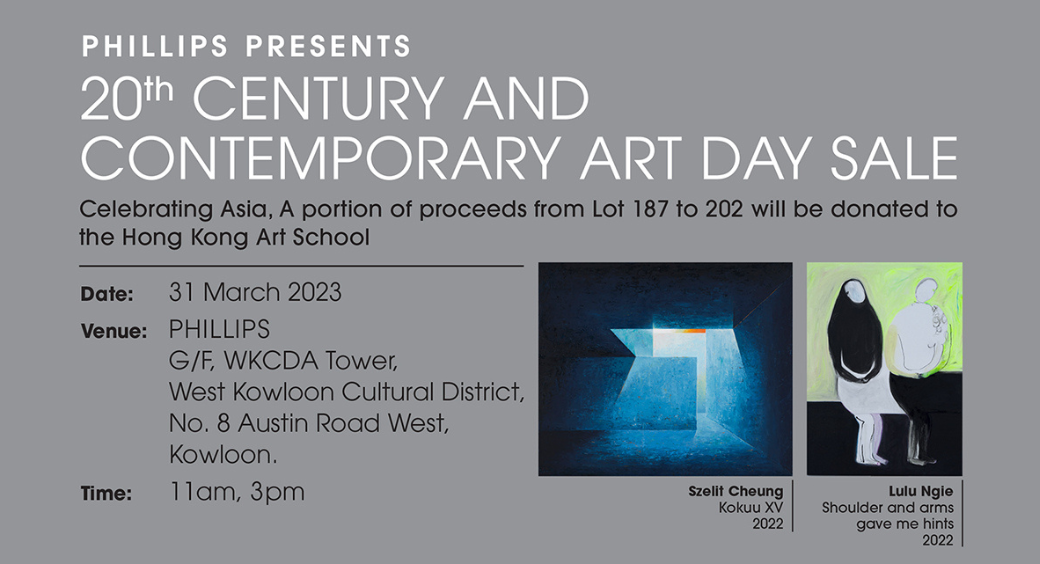 This Spring, on the occasion of Phillips' 20th Century & Contemporary Art inaugural sales in West Kowloon, we are delighted to present a selection of artworks by exciting young and emerging artists from Asia that will be sold to benefit the Hong Kong Art School.
We believe that, as we enter into the Post-Pandemic era, it's more important than ever to reconnect communities and cultures. Toward this end, Phillips endeavors to support the emerging new generation of talents and to represent their perspectives in meaningful ways.
The artists featured in this special selection are diverse — themes include isolation, body language, and shared emotions. Together and individually, they paint a colourful picture of an unusual time in history and both celebrate and critique our current way of life.
Phillips is honoured to support the Hong Kong Art School with a portion of proceeds from this sale. The School is an important non-profit institution that both nurtures our local creative community and encourages cultural exchange with other nations around the globe.
Phillips' 20th Century & Contemporary Art inaugural sales
Date: 31 March 2023
Time: 11am (Session I), 3pm (Session II)
Venue : PHILLIPS (G/F, WKCDA Tower, West Kowloon Cultural District, No. 8 Austin Road West, Kowloon)